Thank you for visiting our web site. Windy Hill Organic Farm is owned by Will Pedersen and Alyson Chisholm. We produce organic fruits and vegetables and keep a small herd of dairy goats on our 45 acre farm in McKees Mills, New Brunswick. We are offering a CSA box program starting in June. We also sell our certified organic produce seasonally at the Dieppe Farmers Market on Saturdays as part of the co-op, Coin Bio/Organic Corner.
We are currently looking for a full-time employee/apprentice for the 2016 season. Check out our job description on Food Works: http://www.foodwork.ca/jobs/organic-farm-worker-apprentice-job-near-moncton-new-brunswick-32839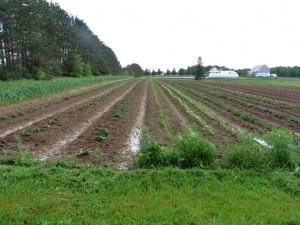 We had a good season last year even though there were a few unexpected projects, the largest of which was repairing our 75 year old barn. Our original plan was to remove the old plywood siding and install metal siding that would hopefully last many years. Anyone who has done renovations knows that once you start removing cladding from old buildings, scary things are revealed. Our three week project ended up taking up most of the summer however we now have a much stronger barn that will hopefully last another 75 years. Other projects including fall planted strawberries were highly successful and we propagated our own plants last year for the 2016 crop. We grew some grafted tomato plants (no ground-breaking results), more sweet potatoes, popcorn (great success!) and harvested our first handfuls of cherries and grapes. Sarah's winter CSA was very successful and she will join us for another season to run her own business with an expanded production of storage vegetables and canned/dried products for winter eating. We believe in producing as much of our own food as possible and providing great tasting food to our neighbors in southeastern New Brunswick. Please browse the other sections of our web site and contact us if you would like to be included in our CSA program.