Thank you for visiting my web site. Windy Hill Organic Farm is owned by Alyson Chisholm. I produce organic fruits and vegetables and keep a small herd of dairy goats on my 45 acre farm in McKees Mills,New Brunswick. I offer a CSA box program starting in June and sell my certified organic produce seasonally at the Dieppe Farmers Market on Saturdays as part of the co-op,Coin Bio/Organic Corner.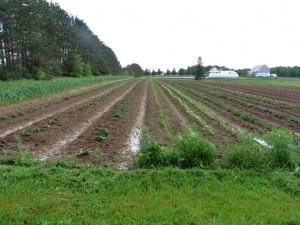 2016 was a very interesting season with many big changes. The biggest of all was my partner,Will,unexpectedly leaving the farm at the start of the growing season. It was a challenging year as I was also recovering from my hip replacement surgery in early April,training a new farm team (2/3 of my workforce) and dealing with a potting mix failure that led to the loss of almost all the early vegetable plantings (including all the tomatoes,broccoli,most of the cabbage,kale,chard,lettuce and parsley). Somehow,through the amazing efforts of my farm team,help from family and friends and sheer stubbornness (plus many long hours),we made it through the season and managed to keep my commitments to CSA members. I was reminded of the importance of community as other members of our marketing co-op,Coin Bio/Organic Corner,kept our table supplied with vegetables in the early season at the Dieppe Farmer's Market while all my harvest went to CSA members. Windy Hill Farm finally pulled it together mid-season and managed to provide a great fall market table,as well as great late season baskets.
Another big event of 2016 was my long time apprentice/worker/co-farmer Sarah Smith buying her own property in Midgic (near Sackville). She is now operating Sweet Soil Organics and offering a winter CSA with plans to have a winter stall at the Dieppe Farmer's Market in the future. Sarah has been a great help here on the farm and it's been a real privilege to work with her and see her grow and develop as a farmer.
2017 promises many great things and I look forward to continuing to supply my CSA members with delicious,healthy vegetables. For more information on the CSA basket program,please check out the links on this website.