Thank you for visiting my web site. Windy Hill Organic Farm is owned by Alyson Chisholm. I produce organic fruits and vegetables and keep a small herd of dairy goats on my 45 acre farm in McKees Mills,New Brunswick. I offer a CSA box program starting in June and sell my certified organic produce seasonally at the Dieppe Farmers Market on Saturdays as part of the co-op,Coin Bio/Organic Corner. Though I am the sole owner of this farm I by no means operate on my own. My team of amazing farm workers,as well as volunteers,friends,neighbours and other supporters (including CSA members of course!) enable me to run this farm in a sustainable manner and produce vegetables to feed hundreds of families. To my co-producers,I am very grateful and hope we continue doing this for a long time to come!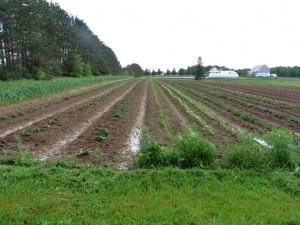 2018 was another great season though the trend of very dry summers continued for its third year in a row. We handled this summer of little rainfall quite well thanks to overall better preparedness,some new irrigation equipment and a highly adept irrigation manager (thank you,Kelsey!). The new lean-to greenhouse was great for starting seedlings and the better ventilation system allowed us to utilize it longer into the season. We were also lucky to be able to start the earliest seeds at M. Tomate's greenhouse in Rogersville,giving the onions and leeks a great jump on the season. The big project of the season was the new farm cabin:a small but highly self-contained structure with kitchen,bathroom,living room and bedroom all in less than 200 square feet! Lauren gave it a trial run and though there were still a few finishing touches left to do,it served her very well. For this year we plan to finish the outside siding and add a small deck and mudroom. Oh yes,and finally some curtains!
The old greenhouse was re-covered with plastic and this spring I will have two greenhouses in production for the first time ever. I'm very excited to experiment with early plantings of a few different crops and maybe even start the CSA a bit earlier than past years. Some of the new equipment purchased in 2019 were a spring-tooth cultivator which raised my mechanical weed control to new levels and a very old (originally horse-drawn) manure spreader that I'm hoping to adapt for spreading compost this season. Other projects for 2019 include building our own barrel root vegetable washer. This is a tool that will hopefully spare farmers'hands washing vegetables in the cold fall season (with cold water!). As you can imagine,the crew is very keen on its completion and once we find a design that works,we'll leap into construction.
I'm happy to announce that Kelsey will join us for another season as will Carla once she recovers from knee surgery. Lauren left to move onto new and exciting things on PEI and we'll all miss her tremendously,especially the goats! We were lucky enough to find a different Lauren for 2019 –it will be great to keep me getting too confused with names –so our farm team is nearly complete.
2019 promises many great things and I look forward to continuing to supply my CSA members with delicious,healthy vegetables. For more information on the CSA basket program,please check out the links on this website.