Thank you for visiting my web site. Windy Hill Organic Farm is owned by Alyson Chisholm. I produce organic fruits and vegetables and keep a small herd of dairy goats on my 45 acre farm in McKees Mills,New Brunswick. I offer a CSA box program starting in June and sell my certified organic produce seasonally at the Dieppe Farmers Market on Saturdays as part of the co-op,Coin Bio/Organic Corner. Though I am the sole owner of this farm I by no means operate on my own. My team of amazing farm workers,as well as volunteers,friends,neighbours and other supporters (including CSA members of course!) enable me to run this farm in a sustainable manner and produce vegetables to feed hundreds of families. To my co-producers,I am very grateful and hope we continue doing this for a long time to come!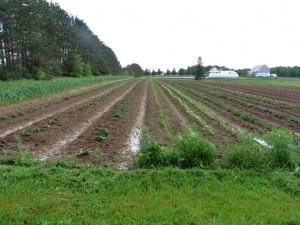 2017 was a great season with many challenges,the greatest of which was drought. We had about 3 rainy days between late June and late October and the well was taxed to its limit providing water to the crops. The pond behind my house is maintained as habitat for wildlife and I watched with dismay as the water level sank to a puddle –poor ducks! In a drought year you can really see the benefits of organic farming:a system that focus on soil health,building organic matter to feed the microbes that feed the plant,also provides other benefits. The high soil organic matter acts as a sponge and holds moisture in the soil and this was the only reason I was still able to get a harvest of garlic,sweet potatoes,potatoes and beans in my one non-irrigated field.
It was wonderful to have a second greenhouse in 2017 and it performed beautifully growing early carrots,beets and onions and later season crops:ginger,eggplant and cucumbers. We also managed to rebuild the lean-to greenhouse (where seedlings are started in the spring) and it looks wonderful. This year we will re-cover the old greenhouse after rebuilding the ends and doors so will have two greenhouses for early crops in 2019. In an effort to "lean up"the farm I am selling old equipment that is no longer in regular use and am looking into investing in some new equipment to make vegetable production a little easier on the body. This is indeed a work in progress!
2018 promises many great things and I look forward to continuing to supply my CSA members with delicious,healthy vegetables. For more information on the CSA basket program,please check out the links on this website.